My One Funnel Away Challenge Review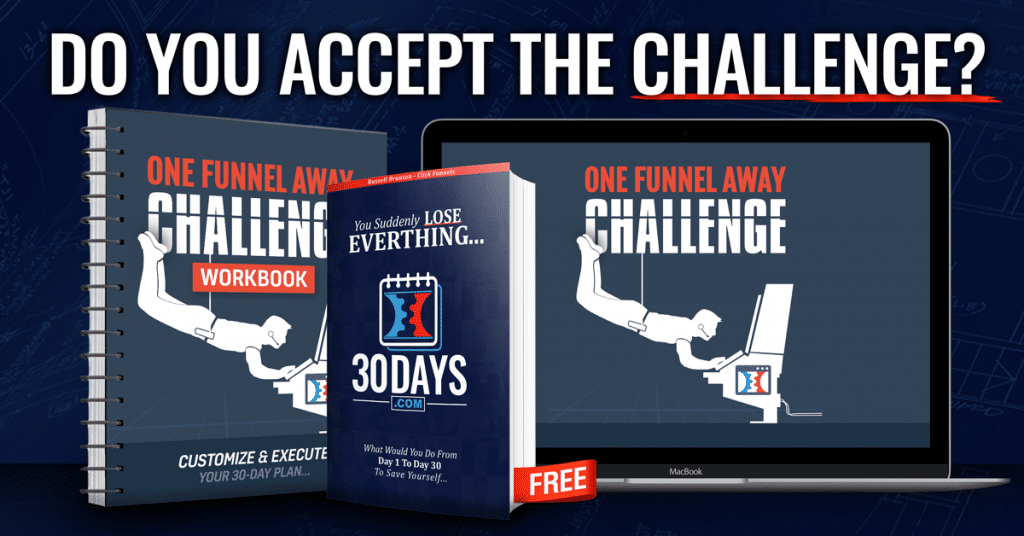 What Is The One Funnel Away Challenge?
First of all before we go any further you're going to need to invest a little bit of time and effort in this course but it's creator Russell Brunson is probably one of the best digital marketers in the business. He is the idea behind the best sales funnel builder in the world Clickfunnels. I can hear you asking "what is a sales funnel anyway?" It's a way of eliminating the selling complexities of a website into a page that allows you to market your product, course etc down a predefined path to one option a sale.
You are going to see the slogan You're only one funnel away a lot from here on in. It's basically what the course is all about taking you by the hand from zero to launch. If you get your sales funnels right you can revolutionize your whole business and change your entire work life balance. I find watching Russell, Steven and Julie's videos inspiring. They are great orators but their passion is addictive! I Know you hear it everywhere but these guys have made millions of dollars online and what they share with you is more than how to do it, their changing your whole belief mindset!!
You're going to learn how to guide your prospect in the direction you want through the most effective funnel building strategies and how to generate targeted traffic. You literally are taken by the hand teaching all you need to know to build an effective sales funnel. Okay you're wondering should I spend the $100 could I teach myself? Seriously don't sit on the fence this training is your golden nugget. I watched just one of Steven's Videos and had the first of many eureka moments. People struggle to understand sales funnels but you're going to learn they are the future of marketing. It may surprise you that you are taken through sales funnels everyday but you may not even know it, McDonalds and Netflix are masters at it!
What Do You Learn In The OFA Challenge?
Let's face it marketing or mainly affiliate marketing you will find many people who spew their affiliate link all over the place with no intention of learning the fundamentals of how to build a business. They jump from offer to offer making a quick buck but without the foundations in place it can come quickly tumbling down. I have always tried to teach people who want to make a living online to create a business, the same as you would with any bricks and mortar business, you need to invest to see it grow, It takes a lot of time and effort. I write most of my articles from 10.30pm onwards, take it from me and leave the stuff that comes naturally to you to later in the day. Whatever you do, don't lose your focus, stay on one path and never ever give up!!
That's me rambling again….it is 10.28pm after all!! Anyway, once you're inside the OFA challenge you're going to learn from the very best online marketers in the world, you are going to be joining a community of like minded people who are genuinely interested in your success. Ultimately your success will bring them more success. I am going to stress again that you are building a better future for yourself and your family here. There is going to be a lot of watching and reading, taking loads of notes and even homework but this is the real deal believe me. Just watch Russell or Steven for a few minutes and you're hooked. You want to succeed, you want to fulfil your dreams….Hope that's not just me!!!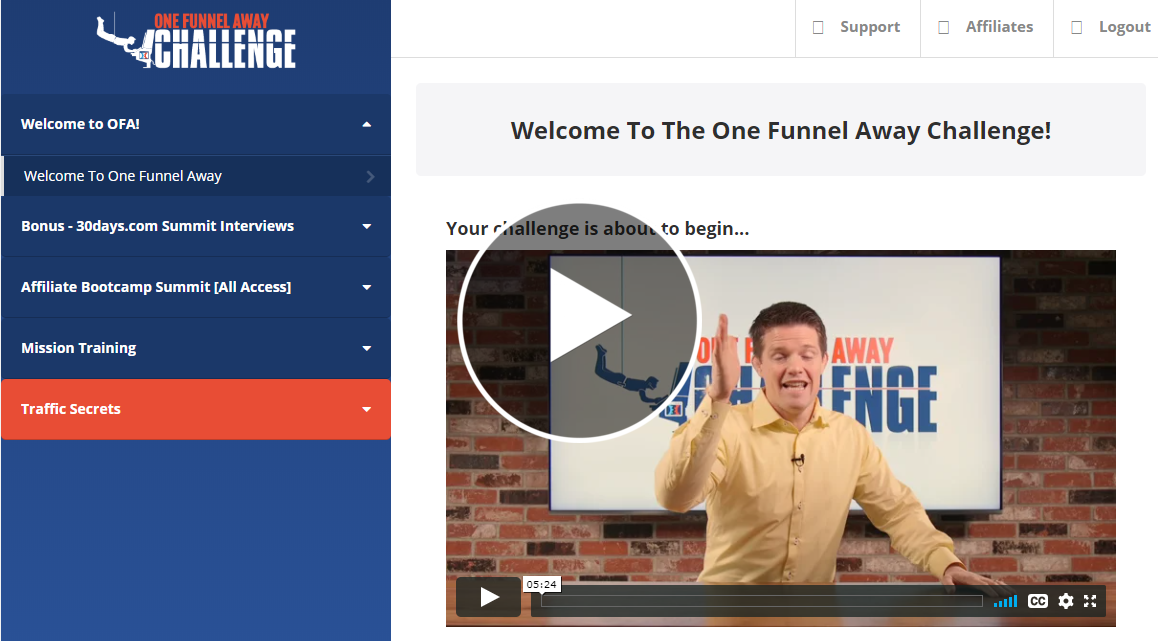 Let's break it down:
Pre-Training – It's time to believe in yourself!!
Week one is all about belief about your abilities to believe you can succeed, one of the first video's you will watch is called 'You Must Believe'. Russell breaks down the reasons behind the pre-training you need to do to get your mindset right before you venture further into the course. Let me say Americans are good at self help and the drive to succeed, we Brits find it a little harder but if you want it, get sucked in and learn from these guys and truly change your beliefs….your not regret it!!
1st Week – Time to learn how to create offers
Okay, I hope if you haven't signed up and enjoyed the first week yet then it's time to GET STARTED!! Anyway let's jump back into my review of OFA. This week it's time to learn how to set up an offer, step by step. Stephen Larsen is going to really leave you feeling less confused, he has a way to relay his thoughts, experience and huge knowledge in a way you can absorb.
You will start to implement the first week as belief is an integral part of creating an offer, not just your belief that you can achieve but what are the beliefs of your prospect, this is going to tailor your offer to meet those beliefs. I could ramble on trying to explain this but your start to understand during Stephen's presentations.
If you're new to digital or affiliate marketing you must first of all get the right mindset, treat it as a business, advertise or sell products and services that you believe in and enjoy promoting. This way you will enjoy creating your offer and you'll find it easier to put yourself on the other side of the funnel.
Russell and Stephen are insistent that you put yourself out there and create everyday this is how to evidently achieve in this business. Find something that you're good at and do that part, the parts you find difficult or don't know how to find someone who does and use them!!
>>CLICK HERE TO LAUNCH YOUR FIRST FUNNEL IN 30 DAYS!
2nd Week – Time to write your story!
This week you are going to learn how to tell your story. Story telling, when it comes to offers is huge and probably the most important thing you can learn in your internet marketing journey. This is time to implement what you learned in week one again, your story should make your prospect believe one thing in your story…just one thing and you have undoubtedly hooked them and the process to purchase is going to be much easier.
Russell talks about stories holding your offer together, your story should be at the core of breaking any false belief your prospect may have. The story you are going to tell is your origin story, this is the story you created when you first began your very own journey.
At some point we all had a moment in our life whilst building our business that is our Eureka moment the moment it all came together! Imagine your prospect hasn't reached that point yet, their on their first journey called desire. They desire financial freedom, nice cars etc.
You find a great analogy in one of Russell's videos about testing your material. He talks about a comedian who wants to make it on the big stage but because he is unknown he is in the desire stage of his journey. He starts in small clubs, at the first club 2 of his 10 jokes get everyone laughing the others are a flop but he's got 20% of his material. His journey continues through the small clubs, his material improving all the time until finally he is invited to the big stage and you guessed it…..he nails it!! He has just created his origin story!!
But what you will learn is that once you grasp the whole concept your vision or desire will become what you are and ultimately how you offer…Yoda moment!!! That's tough for a Brit to write that line, as I mentioned before we Brits find all that forwardness 'a bit much'!!
3rd Week – Start building your sales funnel!
Okay, as we head into week four, it's time to build your funnel. At this point you should have a Clickfunnels account in place if you don't then set one up. Russell and Steven break down all the elements of how to start building your funnel. This is when your previous weeks' training starts to make sense. To me week one is the basis of funnel building without belief all you're about to do is pointless.
Your headline should hook your prospect, encouraging them to continue down the page, then comes your story, your belief story that will connect with your prospects desire story, remember you are creating more interest with what they desire as a person whether that be financial freedom, losing weight or self empowerment. At this point if you have been following what you have been taught your prospect is hooked but could still leave at any point! So now it's time to add value and breakdown how much each aspect of your offer costs, it's easier if you check out the following image.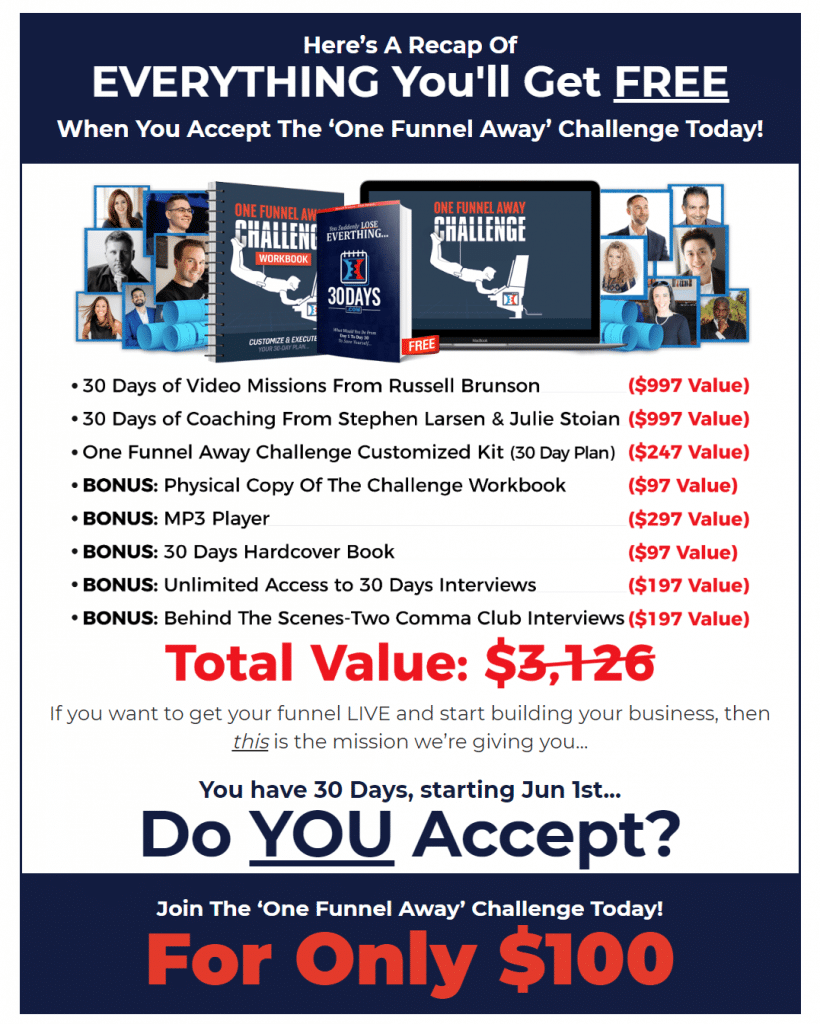 As you can see, what your prospect is getting is valued at over $3000 dollars and they get it for $100!!! It's now a no brainer! So now it's time to add even more value with your bonuses i.e. eBooks, mini courses etc.
You will also cover squeeze pages, OTA's and all other tactics to maximise the profitability of your funnel. As I have always stated I would not recommend a course or product if I hadn't tested it myself and I can assure you I was very confused about how to build a funnel. I'll be honest with you I made the fatal mistake I over complicated things watching to many how to do YouTube videos with no action! This challenge made things crystal clear and I launched my first funnel. Okay it wasn't the greatest but using the comedian analogy, testing his material I did the same with my funnels. My first successful funnel being the e-Com funnel I give away on this site.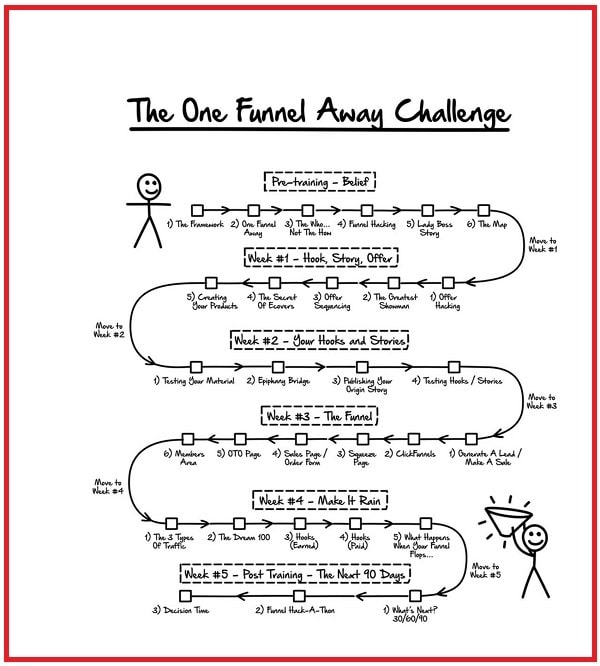 4th Week – Let's get some traffic!
Okay, as with anything business orientated you need traffic or if you are a retail store footfall without that all your hard work is pointless. I try to generate a lot of traffic through content marketing or free traffic options if possible as this can make your business so much stronger in the long run.
I started building my list from giving away free eBooks on my own sites and through platforms like Quora. What I would point out is that if you are answering questions on Quora, is to genuinely want to help people answer their questions as with any platform you will need to create a bridge page to your offer, if you don't you will be blocked from using the site. I used one of Russell's tactics here as I am not a writer and answering questions succinctly is difficult..so find someone who can!
If you're going to use paid ads then I would advise you to test, test and test again and if you are sending people to affiliate offers a good bridge page is essential. I would recommend that you make your page similar to the offer page as your prospect will definitely leave if the page is vastly different from the sales page!! If you want to learn in depth traffic strategies then I recommend the traffic Secrets book. Below is the funnel I use to get signups and to promote the book. As you go through the steps you can see the page is similar to Russell's sales page. By the way this book is excellent…I use it as my very own traffic bible!!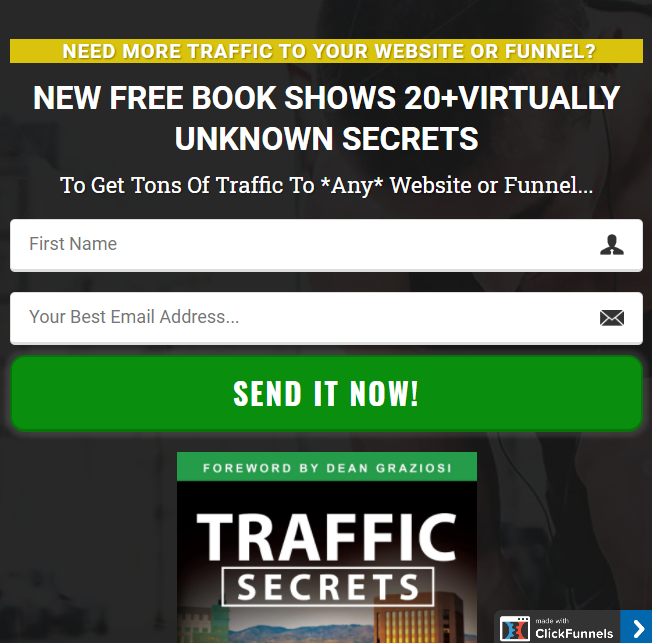 Traffic is a subject you can go on and on about, but this is one thing in your journey you must learn. Use software to help you find keywords. I use Market Samurai and SemRush and if you haven't done it yet start your own website or blog using WordPress. The theme should be light SEO friendly with a good caching plugin.
As I stated in my breakdown of week three your funnel will more than likely not be the instant hit!! But don't give up, keep at it and you will achieve! Russell and Stephen will give you some pointers to keep you focused.
5th Week – Post Training
This week you will be taking all that you have learnt and getting ready to scale it over the next 3 months. You will begin to enjoy creating funnels…it is genuinely quite addictive.
I am going to ask that during this whole course and the 3 months that follow that you build your website alongside your learning curve if you manage to write one or two good articles a week based around easier to rank for keywords you could have a 17 article blog which Google will be more than happy to rank higher!! Don't count my articles. I have another 6 profitable websites that my business is built around!!
Ready to JOIN the ONE FUNNEL AWAY Challenge? This is your chance to start your own EPIC journey into internet marketing!!
>>CLICK HERE TO LAUNCH YOUR FIRST FUNNEL IN 30 DAYS!
TODAY I am going to give you a way to get the OFA challenge and FREE access to Clickfunnels 30 DAY SUMMIT. Where you can learn what 30 of the top internet marketers would do if they had No product, no list, no traffic, and no funnel… and then detailing EXACTLY what they did in a simple, step by step daily process! For FREE!!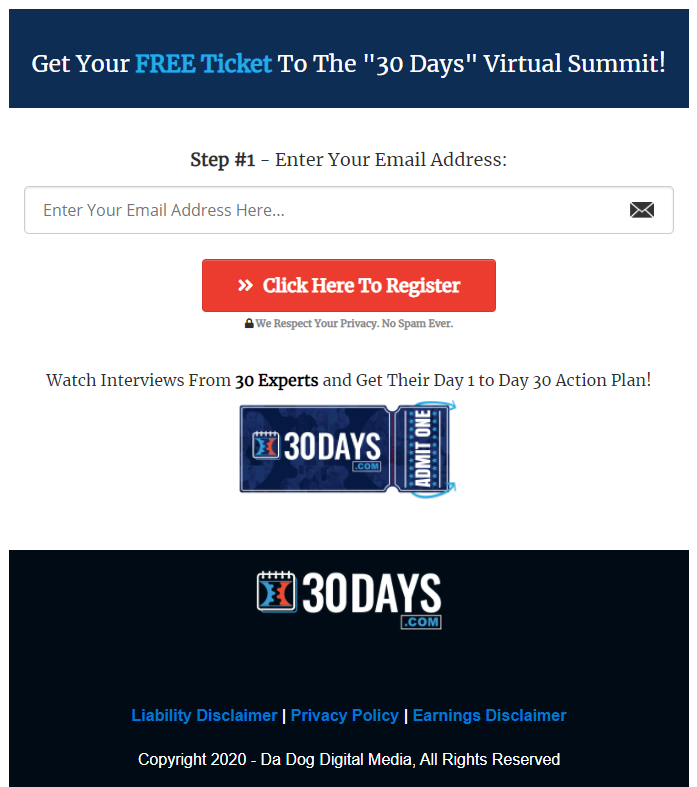 This post is also published on Medium.
Funnel strategies that Russell himself uses
10.0/10
Funnel building becomes addictive
10.0/10
Great Funnel Hacker community and support
10.0/10
Awesome motivation
10.0/10
Great value for money
10.0/10
Pros
World class coaching
Easy step by step training
Lots of positive reviews
Excellent community support
Only $100
Cons
Course taken down after 30 days
The course requires alot of time and dedication