How To Use GetResponse For Email Marketing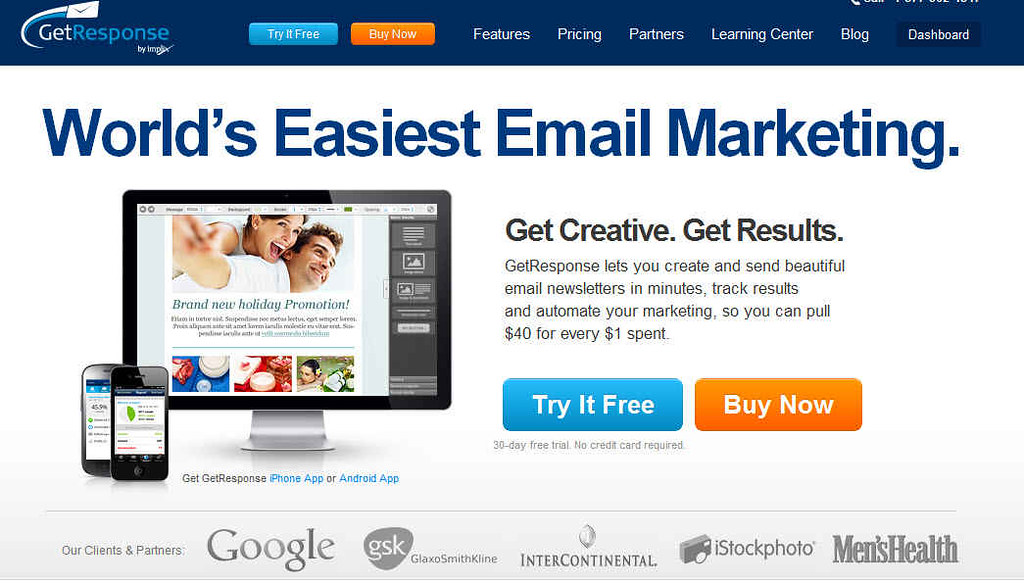 What Is GetResponse and What Features Do You Get
Marketing Automation Workflows
The automation features get my vote which makes GetResponse the best all round email marketing software on the market today! Click on automation and your taken to a feature to create a workflow this will enable you to simply drag widgets in to a blank canvas creating a very simple flowchart. No other email marketing software offers this so I decided to review GetResponse against its main rivals (Aweber and Mailchimp) but this feature alone blows the others out of the water.
Once you have setup your your lists i.e. your ecom funnel list etc. You can build appropriate work flows to run things automatically you can even split that list within the workflow i.e. someone clicks on the initial link and is taken to your sales page and buys your product. That group would then be taken to a different email while the people who didn't buy your product will get a different email offering the product again. If they then buy they will join the first workflow. Sounds complicated but it really is a life changer!! Why not test it out yourself? Its Free to Start.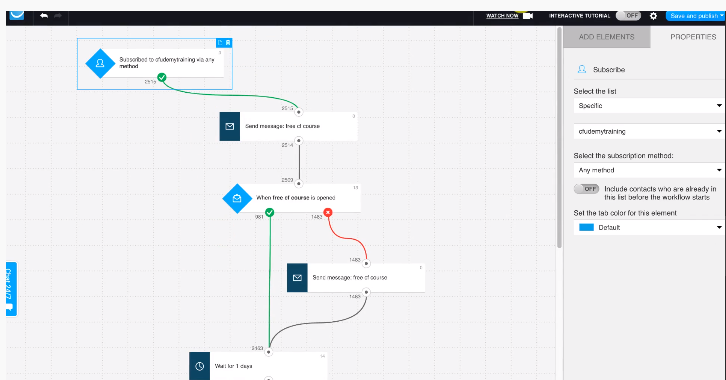 >>CLICK HERE TO START YOUR GETRESPONSE FREE TRIAL
Landing Page Builder
GetResponse offers a landing page builder along with the majority of the other email marketing software's. Although GetResponse offers the ability to split test each funnel you create with some pretty decent templates its going to cost you in the region of $50 dollars a month to add this to your package.
Don't waste your time adding the landing page option, GetResponse gives you the very best autoresponder and email marketing software for a very decent price. If you want a funnel builder use Clickfunnels it's far far better and in the long run more cost effective.
Although GetResponse offer an auto funnel feature to run your Shopify business from within the GetResponse dashboard allowing you to create the funnel, connect you email list, create a product catalogue and run ad campaigns. For me you better to keep it simple and run your business with the best available software's, i.e. GetResponse for your email marketing, Clickfunnels for you funnel builder and Facebook or Google direct for your ads.
Webinar Feature
What I do like about GetResponse is the Webinar feature, okay Aweber offers an excellent alternative here but as I mentioned before GetResponse is better at delivering the rest i.e. workflow etc.
With GetResponse you can host a webinar enabling to sale you product and link it all to your appropriate list. This way you can create numerous webinars and deliver ongoing sales as its always linked to you list, the only downside is the number of attendees you can have which is limited depending on your package.
GetResponse Pros And Cons
Pros
It offers the best automation feature, Love workflows
it is cheaper all-round for the features you get with other email marketing platforms.
They offer discounts when you choose to buy for longer than month by month.
The Auto funnel feature may be a preference for some people.
You have a split testing feature if you opt to create landing pages.
They provide simple breakdowns who has opened your emails and links etc.
Free trial options to get you stared and see if its right for you.
Cons
The email design area could be a little better. Aweber has this feature sorted.
Automation is not available in the cheaper plans.
Limited newsletter templates.
You will have to pay extra for the landing page feature that say Mailchimp offers for free but don't bother use Clickfunnels you can integrate but software's seamlessly.
Conclusion
In my opinion your getting the best email marketing software from GetResponse. It does what it's designed to do brilliantly…collect and send emails!!
How Much Does GetResponse Cost
$49
Pros
Marketing Automation
Conversion Funnel
Landing Page Split Testing
Free Trial Option
Webinar Funnels
Cons
Automation Only Avaliable On Larger Plans
Extra Cost for Mail Automation Templates
Limited Newsletter Templates