How do you master the traffic strategies to skyrocket your website or sales funnels to gain targeted traffic and customers that are eager to buy. Then it's time to invest in Russell Brunson's new book and course to achieve all that and more!!
As entrepreneurs we are talented at creating the product, service and courses we have designed but once we have achieved that how do we get the right customer to find us. I'm sure you don't need me to tell you getting traffic to your website or offer is a skill that needs to be taken seriously otherwise you'll find your business failing very quickly!!
Traffic secrets was written to help businesses and entrepreneurs learn the necessary skills to drive the right traffic to your offer whether organic or paid traffic.
This book and course is going to help you find your dream customer, customers who relate to your offer or product. Russell explains how to throw out the right hooks to get their attention and subsequently enter your funnel.
Whatever you do, don't over complicate things, remember you're looking for people not numbers. Find the desires they're searching for and you have nailed it!!
>>GET YOUR FREE COPY OF TRAFFIC SECRETS HERE!!
What Do I Get With Traffic Secrets
Traffic secrets is a book to teach you how to drive targeted customers to your offers or website. Russell often explains how he started in internet marketing and how he thought his business was killing it making over a $1000 dollars a month. Then he discovered an internet marketer called John Reese who was committed to being the first marketer to make $1 million dollars in one day. Russell was committed to finding out how he did it and the traffic secrets book was born. The strategies laid down here are the same strategies used by John Reese.
There is also a course which is probably the only course you get from the Clickfunnels empire that was not developed by Russell himself. Traffic secrets has a lot of modules and information to absorb but once you start to implement them you find yourself finally getting to grips with online and offline SEO and paid traffic strategies.
Listen to Russell read an extract from TRAFFIC SECRETS HERE!!
Russell is now one of the world's best internet marketers, so when he paid John $1 million for the course you know it must have some very valuable content! On top of that Russell's book is his take on the course, so you get some additional snippets in the book that are not in the course, namely how Clickfunnels gets tens of millions of people to their sites every month….I write that again TENS OF MILLIONS!!!
Clickfunnels find this product particularly valuable as they only offer it when you buy Funnel Builder Secrets, or join Clickfunnels as a Platinum member at $297.00 so getting this EPIC course for free makes it worthwhile. Like I said before the book gives you all that the course has to offer and more and best of all its FREE all you need to do is pay postage and packing.
But if you're like me and find limited time to sit down and read I strongly recommend you invest in the audio version which is $37 dollars so no postage and packing. I have been listening to the book whilst jogging during my daily lockdown exercise routine. I've been using jogging as a ruse to avoid homeschooling……AAAAAGGGGHHH!!
Order Your FREE COPY Today And Get The Following EPIC Bonuses for FREE!!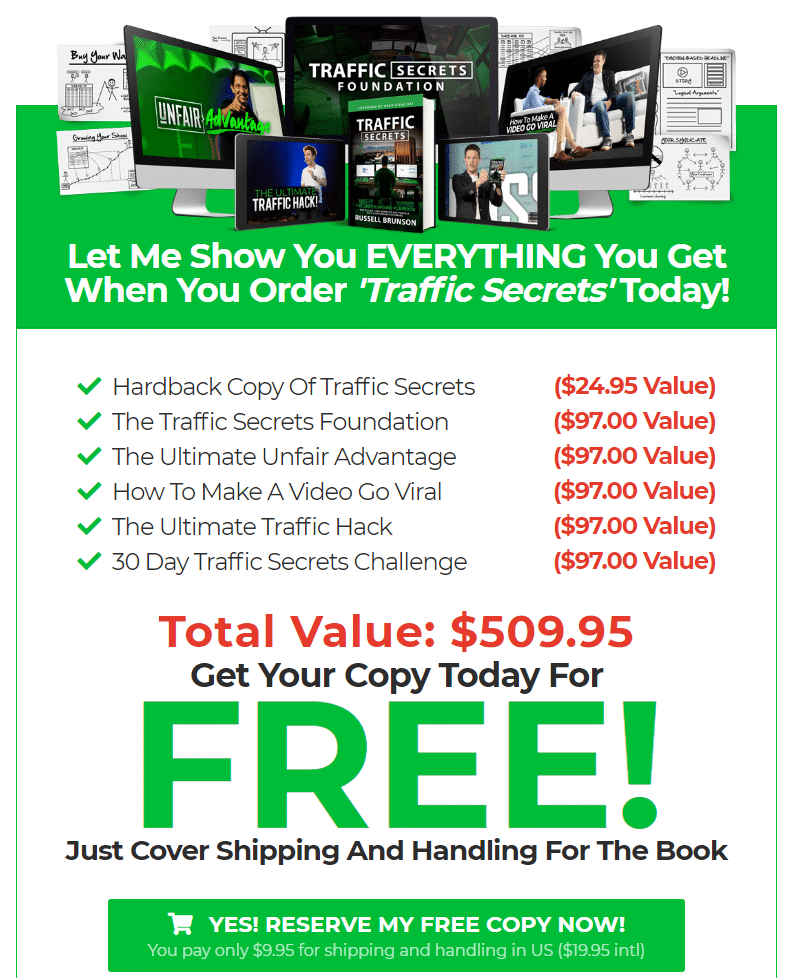 Here's a peak of what your discover in this book, I'll share now to wet your whistle (as we say in the UK):
1: Might seem a bit unconventional but you're going to find your dream customer by pre-empting what's happening in their mind, so you recognize exactly the way to serve them!
2: Find out what your dream customers are looking at online, so you'll find them and get them into your funnels.
3: Learn the way to focus your Dream Customers to pay attention to your story and accept your bonuses and offers.
4: Find the two ways to turn your customers into your forever customers and offer to then again and again.
5: The very best type of traffic not affected by platform algorithm changes.
6: Learn to maximise the pre sales funnel to gather 80% of traffic that usually leave.
7: How to borrow other peoples traffic to promote your offers for FREE.
8: Find FREE traffic from other platforms who have already got your dream customers on their list and divert them to your funnel!
9: Learn how to be consistent with marketing your funnels, while sending streams of valuable traffic into your funnels!
10: How to spend 5 minutes per day to leverage dream customers on social media that are not as yet following you!
11: How to leverage Google and Bing to push your customers to find YOU, rather than you constantly chasing after them!
12: The steps to make constant incredible content that serves your audience to keep them loyal to you.
13: The key to joining the front of the queue when new traffic trends begin and leverage the opportunity.
14: The way to style your landing page to make agencies want to drive traffic to you, so your audience can learn more about you, your company and how you can help them!
15: 3 strategies to plug your products into other people's distribution channels, allowing you to find regular new customers.
16: The game plan to get other marketers to market your products and you pay them once they have made a sale!
17: The seven stages of a funnel that converts ICE cold traffic into hot happy buyers.
18: How to scale your business using tiny adjustments that were modelled from the rapid-growth of tech companies.
>>GET YOUR FREE COPY OF TRAFFIC SECRETS HERE!!
This post is also published on Medium